Nestled on the picture-perfect coast, OPHORA Water is the pride and joy of Santa Barbara, California. This company is making waves. Literally. Using its revolutionary hyper-oxygenated technology, it is showing itself leader of the hydration industry. Clean, healthy water. This is what people want, especially at a time when tap water comes out toxic. Full of pollutants. Even bottled water is bad.
Named "World's Healthiest Water"
OPHORA Water uses a genius method of purifying and oxygenating its water. In fact, the technology employed is set to change the way humans drink it. To eliminate germs, fungi, bacteria, viruses, and whatever else completely, it puts its water through intense filtration. This includes both micro and nano filters. Then, OPHORA further rids its water of impurities with ozone and UV radiation.
The company adds electrolytes and minerals last. This gives flavor to its water. Smoothness. These are not just any minerals either. OPHORA adds essentials, like calcium, magnesium, and potassium, all of which are crucial for healthy musculoskeletal function. For these reasons, and more, many experts consider OPHORA Water the healthiest in the world. As such, it has a devoted following.
Health and wellness communities everywhere are embracing this water. Consumers with health in mind are buying in droves too. Athletes. Academics. This popularity is expanding the brand's presence in stores nationwide, widely touted as the best nano-pure, hyper-oxygenated water out there today. Undeniably, it is the best alkaline water for environmental and human health.
Hyper-Oxygenation: An Innovative Technology
At the heart of OPHORA Water is a new way forward for humankind. A new concept of drinking water. A new process for purification. Hyper-oxygenation does more than just purify, however. It infuses every drop with oxygen, nature's very own gift of life. This goes way beyond conventional purification techniques. It redefines water cleanliness. And it enriches it with crucial oxygen. Life.
Go On, Soak in It
OPHORA Water offers more than just drinking water. It has an entire range of soaking systems available, designed specifically to boost the wellness journey. Its Wellness Spa and Bio-Fresh Pool are two stainless steel adventures all their own. Immerse yourself completely, saturating your skin with hyper-oxygenated water for its many health benefits. Relax at the same time. Rejuvenate.
OPHORA UF Filtration Series: Just as You Need It
Everybody recognizes the need for people to have clean water at home too. In this vein, OPHORA Water created its signature OPHORA UF Filtration Series. Tailored to your plumbing, these systems come in various sizes, including 3/4 inch, 1 inch, 1 1/2 inches, and 2 inches. Simply get the size you need, and you too can always benefit from hyper-oxygenated water. At home. Anytime.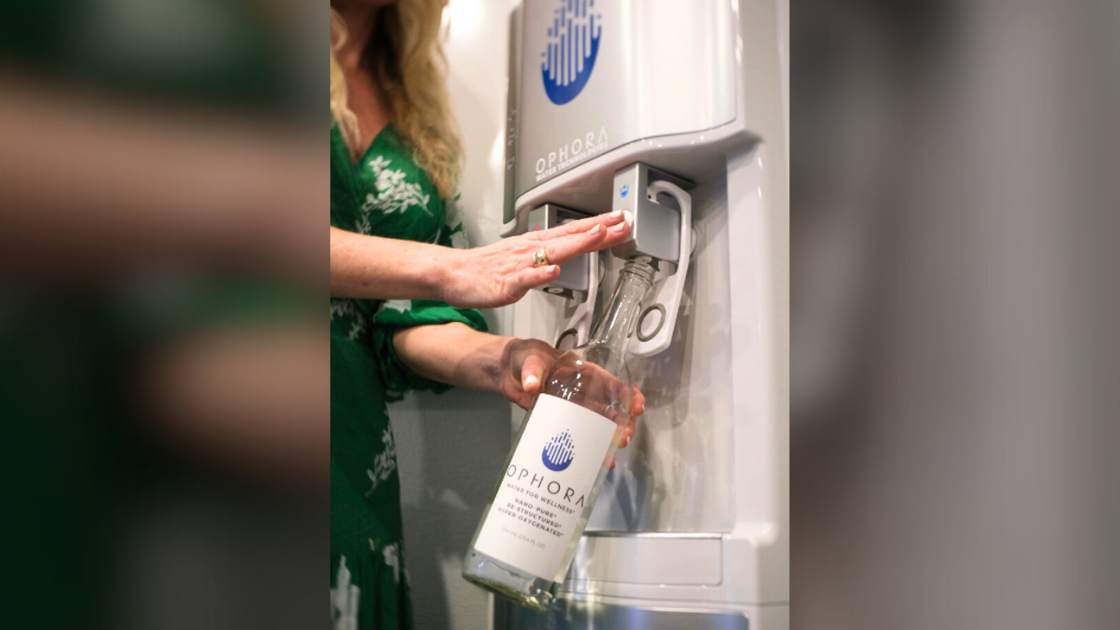 The Founding Duo: Ken and Christen
Ken Guion and Christen Brown, the founders of OPHORA Water, are driving this water revolution. Ken, with his engineering skills, is who sits behind the hyper-oxygenation technology that makes OPHORA possible. That sets it apart. His dedication to testing new ways of purifying water is how we now have water that not only satiates thirst, but also feeds mind, body, and soul.
Christen Brown is the health and wellness expert behind the scenes. She avails herself to championing OPHORA Water as the healthiest, cleanest drinking water today. Her dedication to your health impresses. Such caring resonates with the health-minded everywhere. Most importantly, it propels OPHORA Water to the very front of its industry, where it leads the hydration movement.
What This Means for OPHORA Water
OPHORA Water, using its innovative technology to hyper-oxygenate its water, is deciding the future of hydration. Its alkaline water uses the very latest filtration methods to offer the healthiest water available. State-of-the-art purification, infused minerals, and a 9.5 alkaline pH level make this the perfect choice for anyone wanting healthier water than what is traditionally on offer.
OHORA Water comes in two handy sizes. You can buy half-gallon jugs or 750-milliliter bottles. Easy to store, Ken and Christen are leaving their names in history. This innovation provides an excellent example of what dedication to problem-solving can achieve. As you taste OPHORA Water, drop by drop, you are immersing yourself in a new way of life. A better, healthier way.
SOURCE: https://www.msn.com/en-us/news/other/oxygen-and-water-ophora-water-merges-nature%E2%80%99s-greatest-compounds/